People
Lab Director
Graduate Students

Mattson Ogg
Graduate Student, NACS
Office: BPS 3150F
Email: mogg [at] umd.edu
Mattson Ogg is a graduate student in the Neuroscience and Cognitive Science program. He received his Bachelor's Degree from McGill University in Psychology with a minor in Music Technology. He subsequently worked in the Neurology and Neuroscience Department at Weill Cornell Medical College.

Alison Shell
Office: BPS 3150C
Email: ashell [at] umd.edu
Alison Shell is a graduate student in Psychology. She received her undergraduate degree in Cognitive Science at Vassar College and worked for Boston University and the UMASS Shriver Center studying language and autism.
Graduate Student Alumni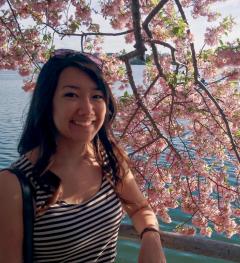 Brooke Okada just recently completed her PhD in Psychology (defended August, 2018), titled Toward a Comprehensive Model of Musical Ability. Before coming to UMD, she received her Bachelor's in Psychology and Music Performance from California State University, Fresno.
Research Assistants (2018-19)
Abiola Adesina

Bélan Chimamanka'a

Donna Dadkhoo

Eli Kane

Daisy Martinez

Roxanna Meyssami

Elsa Moeller

Colleen Patton

Jessica Yao
Current and recent collaborators
(an incomplete list ordered by approximate distance from the lab)
LMCL RA Alumni
2017-18:
Sam Frazier
Sam Harley
Ava Mirzadegan
Molly Moore
Afiong Onyile
David Silversmith
Rafael Zuleta (honors)
2016-17:
Arman Ali
William Bartz
Brittni Bittner
Alexandra Hickey
Christy Jones
Christy Nguyen
Jackie Patton
Keana Richards
Jessica Ward
Jocelyn Yao
2015-16:
Abiola Adesina
Tiffany Bamdad (honors)
Mary Dumler
Arcadia Ewell
Toria Hawkins
Kelly Hiden
Hope Opia
McLaine Rich
Judith Tsoi
2014-15:
Zarsh Bhatti
Nick Brown
Jeff Chang
Chris Eyo
Dan Lerner
Leon Li (honors)
Danielle Dubois
Lisa Kaufman
Quyen Kieu
Omar Mejia
Nabil Morad
2011-14:
Nick Davey (honors)
Bako Ekoko
Ilana Green
Kyeougeun Kim
Teresa Longo
Annahid Meyssami
Rukayat Muse-Ariyoh
Ilanna Newman
Daniel Paul
Anjana Rao
Joshua Robusto
Sadhvi Saxena
Brad Schachat
Ryan Simmons
Eliana Sudikoff